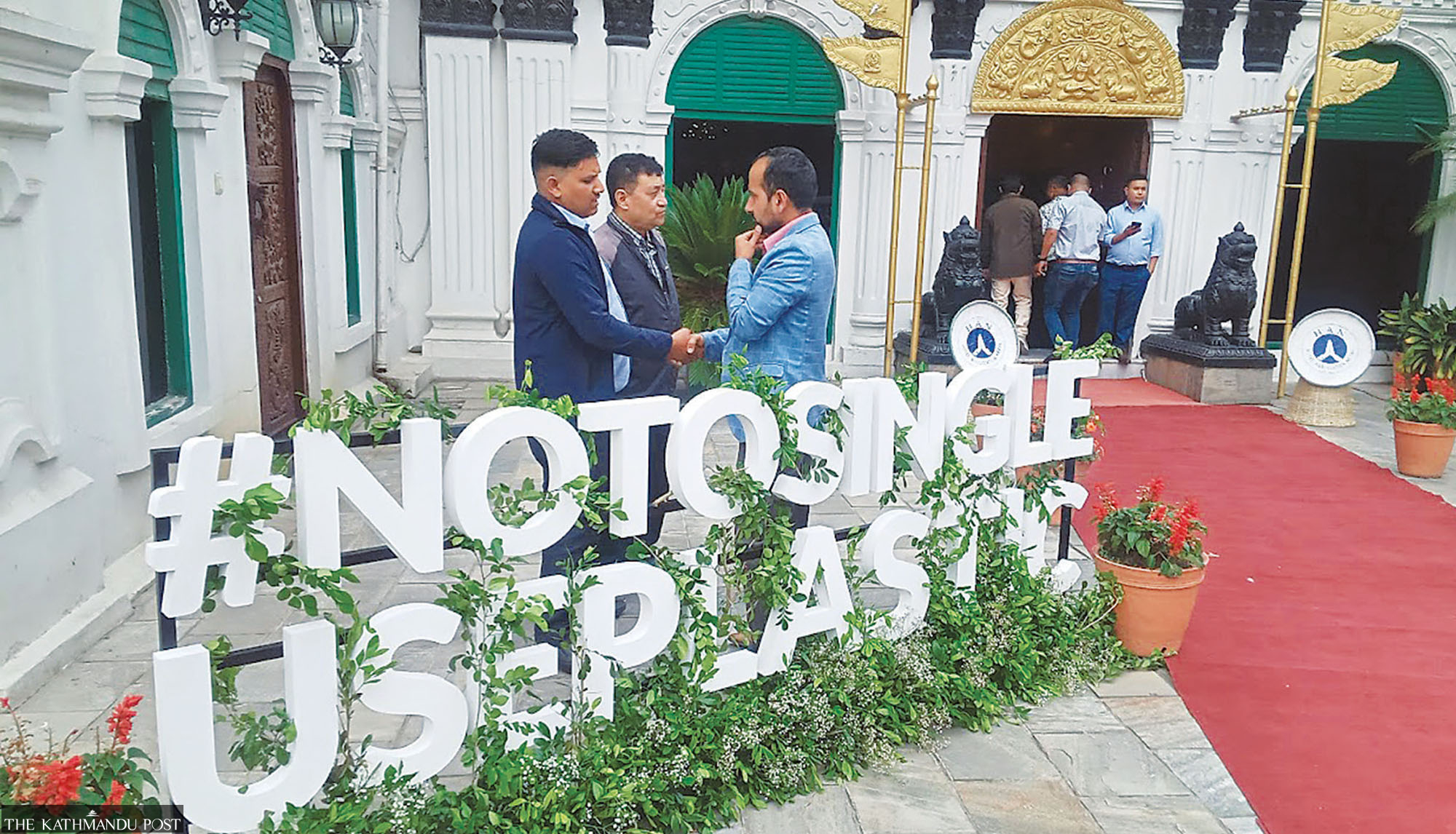 Hotels to ban single-use plastics as part of green campaign
Nepalese hotels have decided to ban single-use plastics from 2025 and join the fight against plastic pollution and promote sustainable tourism.
The Hotel Association of Nepal announced on Wednesday that all types of disposable plastics – water bottles, straws, cutlery, plates, drink stirrers, styrofoam catering products, toothbrushes and combs – would be banned in the hotel. all of its 3,000 member establishments across the country as of January. 1, 2025.
Most luxury hotels have already implemented the policy. Single-use plastics are designed to be used once and thrown away.
"We started the campaign to eliminate single-use plastics from hotel rooms and promote eco-friendly products for green hospitality in the hospitality industry," said Sreejana Rana, President of the Hotel Association of Nepal.
"Plastic is one of the most important innovations of our time, but single-use plastic has a significant impact on the environment. Plastic is a practical comfort in today's world due to its cost inexpensive production and its wide range of applications," said Rana.
"At the same time, the disposable nature of these single-use products contributes to one of the largest sources of pollution in our ecosystem."
The impacts of this plastic waste on the environment and human health are global and can be drastic. Single-use plastic products are more likely to end up in rivers than reusable options.
Plastic is a non-biodegradable material and most plastic is made from fossil fuels. If burned, it poisons the air; if buried, it pollutes the ground. And randomly dumped plastic waste has clogged sewers and rivers and polluted the oceans.
Nepal still lacks efficient waste recycling plants, although several private companies recycle solid waste and produce compost manure on a small scale.
According to a report by the Asian Development Bank, an analysis of the composition of waste in Nepal indicates that the highest fraction of waste is organic matter (66%), followed by plastics (12%), paper and paper products (9%), others (5%) and glass (3%). Metal, textiles, rubber and leather each accounted for 2% or less.
The most common single-use plastic items in Nepal are the plastic bottles that litter the rivers and streams. The plastic has also scaled the mountainous regions polluting the snowy mountain's fresh water due to the increasing number of climbers, mainly on the world's highest peak, Mount Everest.
The International Center for Integrated Mountain Development (ICIMOD) said in its report that Kathmandu alone uses around 4.7 to 4.8 million plastic bags per day. In Nepal, 16% of urban waste consists of plastic, representing 2.7 tons of daily plastic waste generation, he said.
"And that's just Kathmandu. Globally, the data is staggering. Researchers say humans have produced 9.1 billion tonnes of plastic so far, and much of it ends up in nature, causing harm to both living things and the environment.
Besides the amount of plastic waste produced, one of the main problems with plastic is its resistance to degradation, ICIMOD said. A conservative estimate puts the average time it takes for a single plastic bag to fully biodegrade to be 500 years, he said.
"This means that not only will most of the plastic we use in our lifetime outlive us, but our plastic footprint will also affect generations to come."
A huge amount of plastic ends up in river systems, and ultimately in the global ocean ecology.
Sunita Dangol, the newly elected Deputy Mayor of Kathmandu Metropolitan City, said the hotel industry's announcement of a ban on single-use plastics was an exemplary initiative taken by the private sector.
"It's a small initiative, but it has a huge impact," she said. "Although Nepal announced to be a plastic-free country in 2015, it was not effective. But we are moving in the direction of environmental sustainability. We have to do this. Hotels start from their rooms. Let's start with our rooms," she says.
"We still have a long way to go to reach the goal of zero plastic waste. All must contribute to this initiative.
According to ICIMOD, the Hindu Kush Himalayas covering the connected mountains of eight countries – Afghanistan, Bangladesh, Bhutan, China, India, Myanmar, Nepal and Pakistan – is the source of 10 major rivers that provide drinking water, irrigation, hydroelectricity and life, and ultimately reach the oceans.
The flow of water from the Himalayas to the oceans also transports plastics and solid waste, threatening both ecosystems and populations in the mountains, plains and seas.
In Nepal, plastic waste is well known for clogging rivers and streams in the mountains and hills leading to flash floods. The impact of what is done in the mountains is also felt downstream. In fact, like Kathmandu, most urban centers in the Hindu Kush Himalaya region are awash with solid waste, including plastics.
"India's 12 Himalayan states generate up to 22,372 tonnes of municipal waste per day. With increased connectivity, more plastics end up in mountain shops and more tourists add to the demand and use of plastics," ICIMOD said.
If plastic recycling and control mechanisms don't keep pace with single-use plastic production, researchers have estimated that the world will be left with 13 billion tonnes – the equivalent of around 30,000 fully laden supertankers – of plastic by 2050.
In April 2015, Nepal declared Kathmandu a polybag-free zone. Several other regions have followed suit and declared themselves plastic-free, including Parbat, Myagdi, Damak and Ilam.
Plastic bans in mountain urban centers like Gangtok and Nainital in India in the late 1990s demonstrated that everyday life is just as comfortable with reduced plastics, according to ICIMOD.
British Ambassador to Nepal Nicola Pollitt said the announcement by the hospitality industry is a welcome move to protect Nepal's diversity.
The hospitality industry in Nepal is hugely influential, and this type of initiative, although time and money consuming, will benefit the country and its environment, she said.
"Tourists in Nepal will feel the change."
Since January 2020, the Everest region, which has gained notoriety as "the highest dumping ground in the world", has banned the use of plastic bags, bottles and other plastic objects, citing their adverse effects on human health.
The use of plastic bags smaller than 30 microns has been banned.
The Everest region has a long history of struggling to manage the solid waste that visitors to the region bring in each year.
Hundreds of climbers, sherpas, guides and other high altitude porters en route to Everest leave behind tons of biodegradable and non-biodegradable waste, including empty oxygen canisters, bottles, ropes , kitchen waste and faeces, polluting the area and settlements downstream.
The government rule that each climber must bring back at least 8kg of waste – the amount of waste estimated to be produced by an average climber – has remained mostly ineffective.
In 2019, Nepal's first national park, Chitwan National Park, declared itself to be the country's first plastic-free protected area.
Plastic is one of the biggest contributors to government revenue. In the financial year 2020-2021, Nepal imported plastic and its products worth 63 billion rupees, according to the Customs Department.
The government has collected 16.47 billion rupees from plastic taxes.
"Plastic bans have positive impacts not only on the environment but also on the economy," said Tara Nath Adhikari, director general of the Ministry of Tourism.
"Banning single-use plastic will create jobs as the demand for Nepalese products, especially handmade ones, will increase. Banning plastic is crucial if we are considering sustainable green development.